It's the small things that matter the most. Every small thing grows and it creates big things over time. 
Likewise,  small changes can make huge differences in a business. To do every small change, one should get a birds-eye view of a business to get an excellent idea about what's going on in a business.
Transparency matters a lot when deciding what's best for businesses.  
As a digital marketing agency, we have seen that most of the businesses do care about lead generation, but are less concerned about managing leads and the transparency of sales processes until a lead wins. 
With years of experience in the field, we dedicated ourselves to develop something great to manage and convert leads without losing or letting them slip through the cracks of sales processes.
We have been waiting for this remarkable moment for 2 years. And now we are super excited to announce our 1st product launch. we call it DoLeads.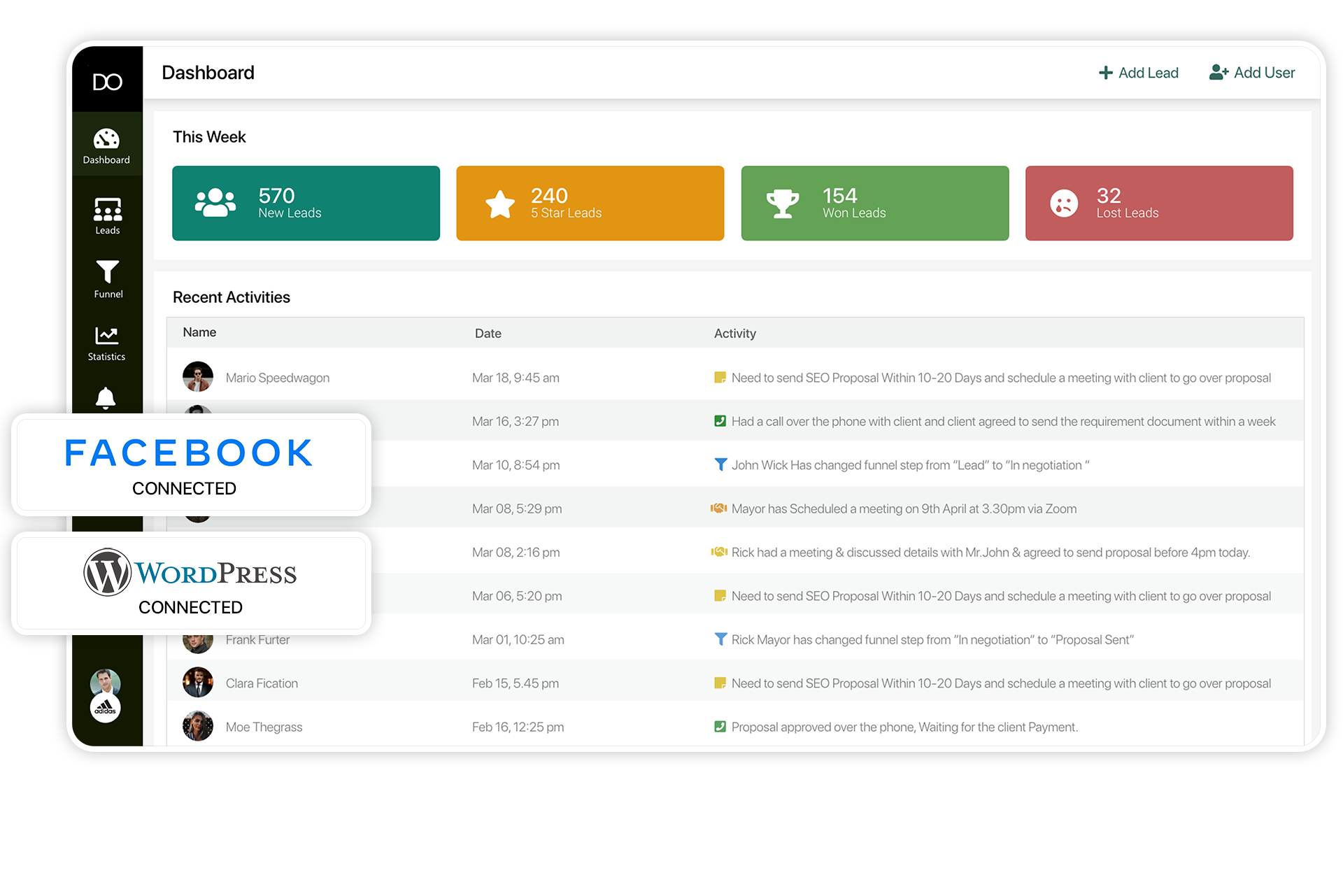 Businesses can use DoLeads as an effective solution to make it easy,
To locate customer data

To keep up with the lead flow 

To view the transparency of a sales process. 
It gives clear records about each and every lead from where it comes from to where it goes – simply until the winning point of a lead. 
DoLeads is built for businesses to get insights, to manage the performances of their teams, and most importantly, to show businesses the complete life stories of each and every lead they get through social media and digital marketing. 
We developed DoLeads specially for digital marketers to get necessary records to protect leads from getting lost. 
DoLeads is integrated with Facebook and Webpages. Whenever you get a new lead through your Facebook page, it will automatically come to the DoLeads system. In the same way,  leads will be added from Webpages.
With DoLeads, businesses can grow more and more sales by converting leads into customers. Now It's much effective to convert leads that come from many social media channels into customers. 
Purpose of DoLeads.
We developed DoLeads to show businesses, 
From which platform/ channel do the leads come from?

The behaviour of the leads 

Reasons for losing leads

How the sales team handles the leads

Transparency of sales activities 
We focus on giving our best to help businesses to connect with their customers. With extraordinary determination, our proficient team of creative designers, digital marketers,  analysts, and developers built DoLeads to help businesses keep growing. 
DoLeads is ready to take lead management to a whole new level. We are so excited to offer a free trial for you to test the newly built DoLeads. 
Sign up now to get the opportunity to test DoLeads for the 1st time.